The Évry shared-use Structural Biology Platform is a part of the Genopole-accredited Structure and Activity of Normal and Pathological Biomolecules Laboratory (SABNP: Inserm/University of Évry). In 2019, because of its recognized technologies and know-how in integrative structural biology, that platform was brought into the fold of the French Infrastructure for Integrated Structural Biology (FRISBI).
With the Opera Phenix Plus, the platform expands its possibilities for services and national & international partnerships.
Tens of thousands of high-resolution images in only a few hours
The Opera Phenix Plus HCS system can generate large quantities of images from biological samples in a matter of hours. Its high-resolution capacities enable the observation of defects in such cellular structures as the cytoskeleton, nucleoli, mitochondria, membrane proteins, neuron dendrites & axons and more. It can also be used for organoid studies or to observe fluorescent reporters for splicing, DNA repair, RNA translation and other cellular mechanisms of interest.
Furthermore, from the images it takes, the technology can produce exploitable quantitative data for high throughput drug screening. For example, the Opera Phenix Plus can produce 80,000 images in two hours for 150 pharmacological compounds.
HCS to energize MicroTubule bench
The HCS system will also provide impetus to MicroTubule bench (MTbench), another high-potential technology developed by SABNP and patented by Inserm Transfert. Producing as many as 63,000 images in only five hours, the Opera Phenix Plus greatly increases the number of images taken in a test run, thus greatly increasing in turn the reliability of this latter.
MTBench is a novel method for observing protein-protein and protein-RNA interactions, which are key phenomena in life sciences. The method detects and quantifies these phenomena in living cells via their naturally-present microtubule networks. MTBench will yield numerous applications, particularly for discovering and testing the actions of novel treatments and for expanding current knowledge on disease-associated cellular dysfunctions. For example, MTBench can be used in living cells to explore the impact of disease-causing mutations, better understand their underlying mechanisms and ultimately identify molecules able to counteract them.

David Pastré, director of SABNP : «Thanks to the support of Genopole and the University of Évry, my lab was able to acquire an imaging technology combining high throughput and high resolution. The HCS system is vital to the development of our novel, patented technology for the analysis of biomolecular interactions, notably those involving RNA and proteins, in living cells. The equipment is mutualized and available to the entire public and private research community.»
How MTBench works
The microtubules (blue cylinders) are used as a support to capture and observe interaction phenomena. The "bait" protein (orange) is fused to a fluorescent reporter (red) and a microtubule binding domain. The "prey" protein (gray) is fused to another fluorescent reporter (green). Any interactions between bait and prey are visible and quantifiable via the fluorescence emitted along the microtubules.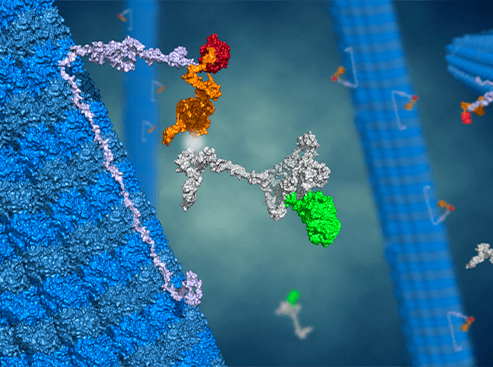 HCS and MTBench: a duo to increase the attractiveness of the Structural Biology Platform
The complementarity of the high content screening system enables the large-scale and even industrial deployment of SABNP's MTBench technology. In the setting of academic partnerships with other research labs, MTBench will be a part of the Structural Biology Platform's service offer.
In the industrial setting, MTbench will be proposed by the Genopole company Synsight. With the stand-alone and MTBench-complementary advantages it brings, the Opera Phenix Plus system will make Synsight a major user of the Structural Biology Platform.
Illustration : Visualisation et quantification par la technologie MTBench des interactions protéines-protéines, observées à l'Opera Phenix+ dans une lignée cellulaire.
Synsight is specialized in the discovery and design of novel therapeutic compounds for the pharmaceutical industry. The company's activity is built upon a propriety and integrated platform that combines artificial intelligence (AI) and high content screening. Synsight proposes two complementary screening strategies: a phenotypic approach that evaluates therapeutic effect globally; and a therapeutic target-based approach that defines modes of action.
The first involves imaging analyses with deep-learning algorithms and will be made possible by the enormous amount of high-resolution images that Opera Phenix Plus will be able to produce (>50,000 daily). Synsight's second approach involves biological targets, which the company seeks to modulate through high-throughput screening using the MTBench technology, for which it has exclusive commercial-use rights. Its approaches can be integrated within those of its clients, both for the identification (active compound identified by screening, called "hits") and optimization (selection of high potential compounds, called "leads") of drug candidates.

Cyril Bauvais, CEO of Synsight : «Synsight has an exclusive world license for the propriety cellular testing technology MTbench. When paired with extracellular biophysics tests, MTBench will provide multiparametric knowledge on molecular effects (within and without the cell) and enable artificial intelligence learning for the selection and design of efficacious compounds. In our opinion, the capacities of an AI can result only from the quality and robustness of the data underlying its learning. Quite simply, having access to such equipment is what will allow us to launch our offer.»
A scientific article there upon will soon be submitted in partnership with SABNP and the Institute of Natural Substances Chemistry (ICSN). Also, a cancer-associated interaction between two RNA binding proteins, YB-1 and Lin28, was recently published in Communications Biology (Nature) by Synsight, SABNP and Russian Academy of Sciences.