a €20,000 repayable advance
Diag 360°
financial assistance for localization
Gene.io is a programme that speeds up the process of obtaining initial financing or signing a first commercial agreement. Initial fundraising is a crucial step for innovative biotechs and a key condition for developing a new product/service and entering the market.  
Who can apply?
A Call for Applications is launched each year. Applicants can be biotechnology companies (post-POC) seeking investors or business partners in Genopole's priority sectors:
Biotherapy: gene therapy, cell therapy, etc.
Bioeconomy: greentech, foodtech, agri-agrotech, energy, cosmetics, biomaterials, textiles, etc.
Digital genomics: software, data analysis/management, AI, etc.
What does Gene.iO offer?
Starter kit:
A full audit identifying strengths and weaknesses to design a tailor-made action plan.
A repayable advance of €20,000 paid at the start of the programme
Financial support for on-site setup
Support from a Genopole project manager
An entry card to the Genopole ecosystem
Access to 25 shared tech platforms.
+
Each company selects the Expertise packs according to its needs:
Market access
Fundraising
Key Account partnerships
Communication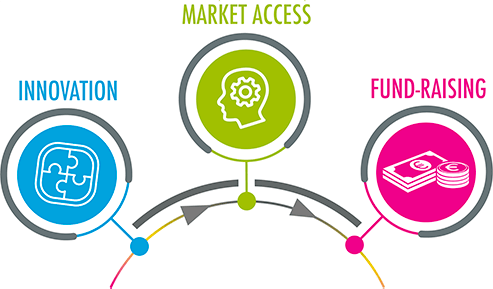 Training is provided over the course of the year by external consultants with expertise in bio-innovation. The aim is to:
Confirm the potential of the startup
Implement the economic model to reach the target markets
Strengthen teams
Build a phased financial strategy for company development