Its French affiliate arrived at Genopole in 2011 and to mark its 10th anniversary in France, the company invites you to participate in monthly activities to be held throughout 2021.
Ten years already for NEB France
Founded on the principles of ethical science, rigorous requirements to attain and maintain the best product quality possible, and a strong commitment to the environment, NEB® builds its activities on a foundation of science, people and passion.
NEB France was created in 2011 to provide its clients and partners with the highest quality services possible. It brings the innovative products developed by the parent company in the United States to the French research community.
A commitment to the environment at the heart of its activities

Through sound, ecological and sustainable practices, NEB ensures the protection and preservation of natural resources, be they local or global. NEB France endeavors daily to reduce the environmental impact of its commercial processes as much as possible.
For its commitment to not only the environment but also its employees, clients and community, NEB recently earned B Corporation certificationTM.
Convinced clients, actors for change
Through its French affiliate, NEB proposes a range of innovative and renownedly efficacious products for diverse applications including NGS, nucleic acid purification, RT-qPCR and LAMP. With that offer, NEB France has won over major actors in research within Île-de-France and throughout the nation.
Genopole: a strategic and fruitful choice
NEB France launched its activities at Genopole in 2011. With its advantageous geographical location and multifold internal infrastructures, Genopole was the clear choice for capturing the Île-de-France and national markets.
With the numerous connections possible at Genopole and the proximity of the many biotechs and incubators therein, NEB France was quickly up to speed.
Stay tuned! In an upcoming podcast, NEB France Director Eric Beguec will speak on the values and commitments guiding his company and the fruitful relations his affiliate has established with other Genopole entities.  
Ten good reasons to celebrate
NEB France intends to celebrate ten years in France and at Genopole with its community. Throughout 2021, at its platform, the affiliate will propose ten participative events in the form of games or contests with such themes as education, the environment, discovery or creativity. With the events, NEB France hopes to offer its community a fun way to rediscover the company's values and objectives.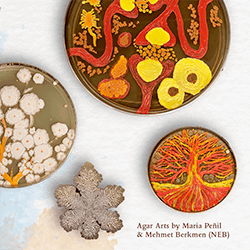 Starting in January, the affiliate's clients have
had the opportunity to meet the NEB team and speak about the close relations they share. In a second activity, NEB France's clients were able to present the actions they deployed to protect and preserve the environment. Neb has also committed to making a donation to the Essonne-based Association Terre d'Avenir in their name.
With its next two events, to thank its most loyal clients, NEB France will shine a light on its laboratory talents and present a collector who possesses NEB's oldest catalog.
To learn more about the past and future events for the anniversary celebrations, visit NEB France Celebrates 10 Years.